Hoosier Southern Railroad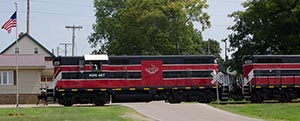 The Hoosier Southern Railroad is a short line that runs from the City of Cannelton, to Lincoln City, Indiana. The 22 miles of rail line are operated in Perry and Spencer counties, with its headquarters in Tell City at the Tell City River Port. We interchange with the class 1 Norfolk Southern Railway in Lincoln City. The interchange with Norfolk Southern gives our customers access to North and Central America as well as the coastal ports that give them a worldwide reach.
Locally the Hoosier Southern has a dedicated industrial lead that runs thru the Santa Claus industrial Park and our main line runs thru the Tell City Industrial Park in Troy Indiana.
We maintain our track to the class 1 standard and with the completion of two projects totaling nearly 6 million dollars early in 2013; we are now able to handle 286K rail cars.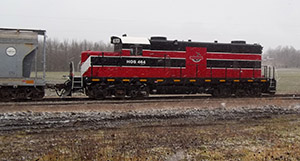 The HOS operates two crews per day, generally Monday through Friday. Weekend schedules are operated as required by the customer. Three GP-7 locomotives, eight gondola and four open top hopper rail cars are employed to handle material moving from the Port to various industries on the HOS and rail traffic is interchanged to/from NS at Lincoln City. We have team tracks in Tell City, Troy, and Lamar Indiana should a non-rail served customer require rail facilities for the loading or unloading of products.
Safety and Customer Service are our number one priorities. In the last decade, we have been recognized with eight annual awards presented to HOS for exemplary safety performance.
Tell City River Port
The Tell City River Port (TCRP) is situated along the Ohio River at mile marker 727. A convenient location to receive barge traffic from the headwaters of the Ohio as well as the Great Lakes and Gulf of Mexico Ports The Port is served by American Commercial, Celtic Barge, Cooper Consolidated, and Ingram Barge Lines.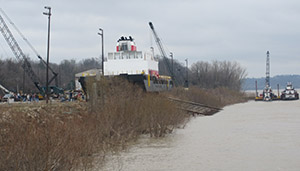 Tell City River Port specializes in the handling and storage of bulk material such as pig iron, coke, coal and woodchips offloaded from river barges. The property is owned by the City of Tell City, Indiana and is operated by the Perry County Port Authority. The port area is comprised of nearly 38 acres with 3300 feet of Ohio River frontage and has nearly 75,000 square feet of concrete/asphalt pad for the storage of materials not requiring inside storage. Land within the port is available to install additional asphalt pad. Available on the port property are two buildings providing for over 46,000 square feet that are suitable for the storage of bulk materials.
The Port covers an additional 3500 feet of river frontage that is not yet developed.
The Tell City River Port is served by the Hoosier Southern Railroad, which is also operated by the Perry County Port Authority. Whether a customer decides to move their product by rail or truck, the port can easily handle those trans loading requirements. On site weighing services are available for our customers whether they ship by rail or by truck.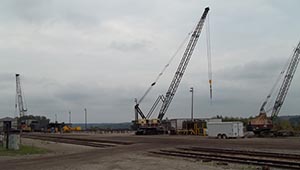 Regardless if you are looking for a port facility to handle your material to or from the river, or a location to store your material, give us a call. We are committed to work with you to develop a situation that meets your requirements.
For inquiries regarding the port or railroad, please contact Jared Kleemann at one of the following:
Phone: 812-547-3586
Cell: 812-608-1905
Email: jaredk@pcrailport.net