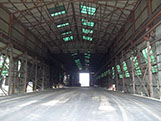 Welcome to the Perry County Port Authority, headquartered in Tell City, Indiana, where The River Meets The Rail. We are a unique organization that operates a public port at mile marker 727 on the Ohio River, and also the connecting railroad that operates from the port through Perry and Spencer counties to its class 1 railroad connection with the Norfolk Southern Railway at Lincoln City, Indiana.
The Tell City River Port and Hoosier Southern Railroad further distinguish themselves from most logistics and transportation companies due to our commitment to supporting local industry and the economy. It's not all about money here, let the Perry County Port Authority assist you in meeting your material storage and transportation needs. We have an ideal location for the storage of bulk material, be it covered or open storage, where we can off load, re-load and deliver your product. Give us a call and let us go to work for you.
Our Mission Statement
To ensure and promote quality railroad and port infrastructure and logistics services in order to increase regional industrial and agricultural business in a safe, environmentally and economically sound manner.